Tania Jarvis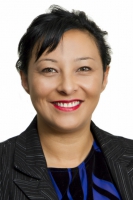 Tania gained a NZQA Certificate in Small Business Accounting in 2006 and is studying for her Diploma in Business Accounting.
She has a sales and accounting background and has worked in diverse fields including construction, real estate, mining and drilling, export sales, insurance brokerage, AI and hospitality. On her return from living and working in Australia she has spent the past 10 years consulting to various MBEs as financial consultant and business analyst and came on staff with IML in 2011. Prior to going overseas she was involved with local committees and audited financial accounts for other non profit organisations in her community.
She enjoys familytime, Dunedin's varied events and attractions and hanging out at the beach.