Andreea Wilson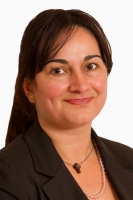 Andreea has a Bachelor of Laws from Lucian Blaga University, Romania, a Baccalaureate in English and Chemistry and has been admitted to the Bar as a Barrister and Solicitor of the High Court of New Zealand.
She brings experience from overseas as Corporate Solicitor and since emigrating to New Zealand she has continued her education and held various roles such as Legal Services and Grants Officer. Andreea speaks English and Romanian perfectly, admits to conversational French and Spanish only, but we've heard her Italian and Portuguese too.
When not at work she enjoys family time and has an interest in literature, different cultures, sports, hiking, biking and skating.